Diary of a Wimpy Kid: The Long Haul is an upcoming film based on the ninth book in the reading series, Diary of a Wimpy Kid: The Long Haul. Filming for the movie began in September, in Atlanta, Georgia. [2] [3] The film will be based on the books, The Long Haul and Old School. [4]
Cast
Plot
Greg convinces his family to take a road trip to attend his great grandmother's 90th birthday as a cover for what he really wants: to attend a nearby gamer convention. Unsurprisingly, things do not go according to plan and Heffley family antics ensue. [12]
Trivia
This will be the first film with an entirely new cast. This is confirmed because all the confirmed cast members have not been in any other Diary of a Wimpy Kid movies.
The short script shared for auditioners feature lines from both Hard Luck and The Long Haul.
Rowley will have a larger role in the film than in the book, in which he only appears in one flashback illustration.
This is the fourth film where an animal appears, making all the Wimpy Kid movies include animals.
Unlike the other films, which were filmed in Vancouver, this will be filmed in Atlanta, Georgia.
This is the first film where Fregley, Patty, Chirag, and Coach Malone doesn't appear.
Greg and Rodrick will get grounded or punished when they get caught going to a gamer convention, instead of going to their grandmother's 90th birthday.
This is the first movie with new actors and actress, as the first 3 movies had the same cast, but they have since all grown up.
An updated version of the Movie Diary containing info on this movie will be released on May 9th, 2017.
Announcement
The last film was released in 2012, and because the original actors have become too old for their characters, it was largely believed that there would be no more films in the series. This changed when Jeff Kinney announced on Twitter that they were "gearing up" to make a movie for The Long Haul and that they first need a Greg and a Rowley. [13] In the tweet, he shared a link to the website for the online casting call [14] and during the Diary of a Wimpy Kid: Double Down's virtually live event (where the 11th book, Double Down book cover, color and title were revealed) Jeff Kinney hinted at this movie. Then a news article on the website of the today show revealed a few cast member names and stated the film would start filming in September, which it did. Jeff Kinney announced on Twitter that filming would start in September in Atlanta, Georgia. [15] After those announcements, the film was definitely going to happen.
Gallery
References
Official Trailer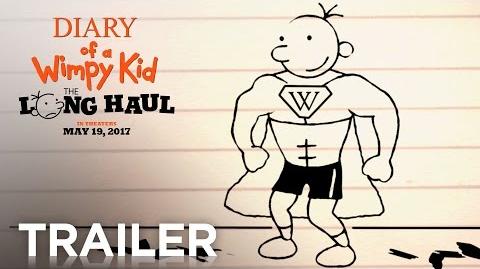 Ad blocker interference detected!
Wikia is a free-to-use site that makes money from advertising. We have a modified experience for viewers using ad blockers

Wikia is not accessible if you've made further modifications. Remove the custom ad blocker rule(s) and the page will load as expected.