Welcome to
Diary of a Wimpy Kid Wiki!
an open source encyclopedia based on Diary of a Wimpy Kid by Jeff Kinney which anybody can edit,this wiki has articles related to information on Diary of a Wimpy Kid.To write an article click on the box below and write the name of the page and click create.
If you don't want to create pages, then you could edit existing pages.
'67
more days until book 10's release!

Featured Article
Diary of a Wimpy Kid: Cabin Fever
is the 6th book of the Diary of a Wimpy Kid series. The book was released on November 15, 2011. Manny Heffley is the main antagonist. The cover of this book shows Greg staring outside the front window in his house at a large amount of snow, with Manny next to him.This will also be the first book to get an animated movie in Late 2014.
Read more >
Did you Know?
Policies
The Diary of a Wimpy Kid wiki has some policies that should be followed.
Do not vandalize/remove content/or spam pages. If you do, you will receive warnings and even blocks.
When you go on chat, do not use offensive language or do any activities like that, or you shall be banned from chat or even blocked on the wiki from everywhere.
Do not use any offensive language on the comment section or even harass users there.
Do not vandalize other user's page.
Do not harass or make fun of other users, this will lead to warnings and blocks.
Do not spam in the comment section.
Keep it safe on this wiki, if you don't keep it safe you will be punished for it.
These aren't all, more can be found at Category:Policy (currently under-construction).
Diary of a Wimpy Kid Books
News
Hello everyone! In all seriousness I didn't even know this wiki was still a thing. I've seen a bunch of posts in the news and on the forums of this site of people wondering exactly where I was. Did I abandon this wiki? The short answer is yes. The long answer is that this was created years ago when I was still in middle school and when I was bored. At this point in time, I am no longer interested…

Read more >
---
Official Friends

Media Corner

Theatrical trailer for the Dog Days movie:
Featured Poll
Are you excited about the tenth book "Old School"?
Poll Archive
Featured Character: October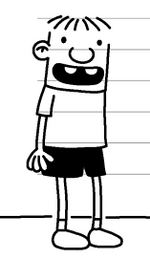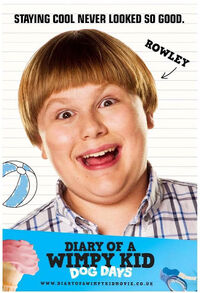 Rowley Jefferson is Greg Heffley's forced best friend, deuteragonist, and occasionally antagonist in the Diary of a Wimpy Kid series. He has overprotective parents who aren't fond of Greg's behavior, assuming that he is a bad influence. He was the main antagonist in Diary of a Wimpy Kid, but is then often seen as an anti-hero in the series, despite being the main character's best friend, as he often does idiotic, nonsensical things to get Greg in trouble while he gets off scot-free.Rowley is an immature boy in several ways. For example, he sleeps with his stuffed toys, he likes his Dinoblazer Action Figures and he even quit writing his popular comic Zoo-Wee-Mama because he needed time to play with his Dinoblazer Action Figures. At Christmas, he gets many childish things and he even gives Greg childish toys and he once even gave him a Big-Wheel.In the movie series, Rowley is an overweight boy with long bowl shaped hair that is orange and is wider than Greg's but his hair is golden brown in Rodrick Rules and Dog Days. In the book series he has 7 strands of hair that is flat on his head and is wider than Greg's. He has two large teeth and his mouth never appears to be closed, expect for 5 times.
Read more >
Featured Quote
"I heard Greg Heffley has really strong muscles."
-Rowley Jefferson, as Greg's wingman