Welcome to
Diary of a Wimpy Kid Wiki!
an open source encyclopedia based on Diary of a Wimpy Kid by Jeff Kinney which anybody can edit, this wiki has articles related to information on Diary of a Wimpy Kid. To write an article click on the box below and write the name of the page and click create.
If you don't want to create pages, then you could edit existing pages.
'145
more days until book 11's release!

Featured Article
Diary of a Wimpy Kid: Cabin Fever
is the 6th book of the Diary of a Wimpy Kid series. The book was released on November 15, 2011. Manny Heffley is the main antagonist. The cover of this book shows Greg staring outside the front window in his house at a large amount of snow, with Manny next to him.This will also be the first book to get an animated movie in Late 2014.
Read more >
Did you Know?
Policies
The Diary of a Wimpy Kid wiki has some policies that should be followed.
Do not vandalize/remove content/or spam pages. If you do, you will receive warnings and even blocks.
When you go on chat, do not use offensive language or do any activities like that, or you shall be banned from chat or even blocked on the wiki from everywhere.
Do not use any offensive language on the comment section or even harass users there.
Do not vandalize other user's page.
Do not harass or make fun of other users, this will lead to warnings and blocks.
Do not spam in the comment section.
Keep it safe on this wiki, if you don't keep it safe you will be punished for it.
These aren't all, more can be found at Category:Policy (currently under-construction).
Diary of a Wimpy Kid Books
News
I've updated the homepage for the first time in quite some time. I still have a bit to do as of writing this blog post, like hold votes to decide what the next featured quote, character and page will be.

Read more >
---
Official Friends

Media Corner

Theatrical trailer for the Dog Days movie:
Featured Poll
Are you excited about the eleventh book "Double Down"?
Poll Archive
Featured Character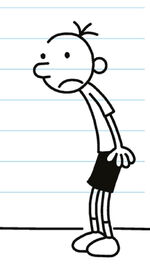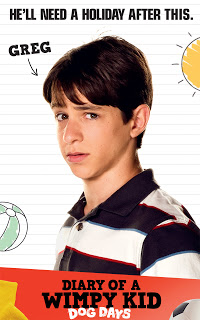 Gregory "Greg" Heffley is an American middle school student and the protagonist and main character of Diary of a Wimpy Kid series, who is believed to be loosely based on Jeff Kinney.Greg explains and narrates throughout the series that he has no strong talents, other than video games and comics. As such, he spends most of his time on them, which deters him away from schoolwork and chores.Greg almost always tries to find a scapegoat to put the blame on for his behavior, but he is oblivious to the fact that nobody forced or influenced him, other than probably his older brother, Rodrick, to act in this manner. Very few times has Greg actually admitted to being "wrong" in a decision he made and took responsibility for it.He wants to be famous when he grows up, and imagines it many times.Greg is usually depicted with black shorts, or black pants and a white shirt. He is very skinny and does not seem to eat nor work out much.
Read more >
Featured Quote
"I heard Greg Heffley has really strong muscles."
-Rowley Jefferson, as Greg's wingman