Welcome to
Diary of a Wimpy Kid Wiki!
an open source encyclopedia based on Diary of a Wimpy Kid by Jeff Kinney which anybody can edit, this wiki has articles related to information on Diary of a Wimpy Kid. To write an article click on the box below and write the name of the page and click create.
If you don't want to create pages, then you could edit existing pages.
'106
more days until book 11's release!

Featured Article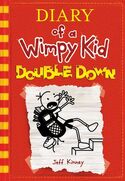 Diary of a Wimpy Kid: Double Down
is the 11th journal in the Diary of a Wimpy Kid series. It will release on November 1, 2016.
A preview can be read here:
http://www.ew.com/article/2016/07/07/diary-wimpy-kid-double-down
Read more >
Did you Know?
Policies
The Diary of a Wimpy Kid wiki has some policies that should be followed.
Do not vandalize/remove content/or spam pages. If you do, you will receive warnings and even blocks.
When you go on chat, do not use offensive language or do any activities like that, or you shall be banned from chat or even blocked on the wiki from everywhere.
Do not use any offensive language on the comment section or even harass users there.
Do not vandalize other user's page.
Do not harass or make fun of other users, this will lead to warnings and blocks.
Do not spam in the comment section.
Keep it safe on this wiki, if you don't keep it safe you will be punished for it.
These aren't all, more can be found at Category:Policy (currently under-construction).
Diary of a Wimpy Kid Books
News
I am wanting to become a bureacurat. I am currently the only active admin on the site, so I'd like to be able to add at least 1 other admin, which I can't do until I am made a bureaucrat. I want to see what other people think of this decision. Should I become a bureaucrat?

Read more >
---
Official Friends

Media Corner

Theatrical trailer for the Dog Days movie:
Featured Poll
Should the currently only active admin, Miles854 be made a bureaucrat by wikia staff?
Poll Archive
Featured Character
Bryce Anderson is the most popular kid in Greg's grade. He is famous for knowing that he has a cute butt from girls who admire him. Greg shows that in elementary school, he didn't like girls, for he said, "Girls are stinky-poos!". Greg tries to make him look like an idiot when he hears him talking to Holly. Greg defends the girls saying: "I don't think girls are stinky-poos!".
Read more >
Featured Quote

"Dag nab you rotten teenagers!"-Frank Heffley, to adolescents knocking down his trash cans