Home
Talk

28
678pages on
this wiki
Welcome to Diary of a Wimpy Kid Wiki! an open source encyclopedia based on Diary of a Wimpy Kid by Jeff Kinney which anybody can edit,this wiki has articles related to information on Diary of a Wimpy Kid.To write an article click on the box below and write the name of the page and click create.
If you don't want to create pages,then you could edit a page.

Featured Article
Corny's Family-Style Restaurant, or simply called just Corny's is a family restaurant the Heffley family goes to during family time. Rowley Jefferson's family also comes here as mentioned by Rowley.They have a rule that you're not allowed to wear a tie, when the Heffley's went there for the first time, Frank got his tie cut and Rowley also once got his tie cut when he went there for dinner with Greg and Abigail. After that, the staff places their ties in the Wall of Shame. At Corny's there are two sections, the Children's Alley and the Adult's Alley. Greg's family always goes to the Children's Alley because they have Manny around. Greg dislikes it because there are crumpled up napkins and half-eaten food on the tables and floor because nobody cleans the place after a family leaves and the seatings is near the bathrooms and the bathrooms are swinging open.
Read more >
Did you Know?
Diary of a Wimpy Kid Books
News
We are doing a list of Germans on this wiki,if you are German,contact Jonny Mole or Wesley246,thanks.

If you want to know why we are doing this,well Greg Heffley1 had made a German Diary of a Wimpy Kid Wiki and asked if we want to partner up,we told him that we will only partner up if there are at least 5 German speaking users on this wiki.




So far we have found 2 German speaking people,3 more still…


Read more >
---
See more Ok,everyone,we are doing a list of German,if you are one please contact me. Wesley246,the founder of Geronimo Stilton Wiki and admin on Diary of a Wimpy Kid Wiki (talk) 13:50, May 17, 2013 (UTC)
Media Corner

Theatrical trailer for the Dog Days movie:
Featured Poll
Which is your favorite book in the main Wimpy Kid series?
Poll Archive
Featured Character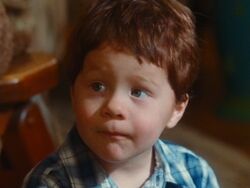 Emmanuel "Manny" Heffley is Greg Heffley and Rodrick Heffley 's younger brother, and is the main antagonist of Cabin Fever. Throughout the first book, he calls Greg "Bubby", because he couldn't pronounce the word brother. In the movie, he is played by twins Connor and Owen Fielding.Greg's illustrations depict Manny having an overbite and his teeth being spaced far apart. He looks like "a buck toothed crocodile", according to the movie diary. Manny is always depicted with a white shirt and colored shorts. Much like Greg, he has protruded hair, with three lines sticking out.Manny is about the size of a letter,in the books.
Read more >
Featured Quote
"I heard Greg Heffley has really strong muscles."
-Rowley Jefferson,as Greg's wingman