Mr. Shropsharp
was a character from one of
Greg Heffley's
comics, although he tried to write it as a children's book. He first appeared in "Wise Up, Mr. Shropsharp!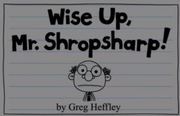 It was about him stating a flawed opinion- that polar bears were useless. Later on, he learns his lesson when he drives off a cliff and ends up in the hospital, the doctor saying that
Tobuk
, a polar bear, saved his life.
Greg
wrote this book after he got fed up with the kind of books his mother,
Susan
, was reading to his younger brother,
Manny
, plus the fact that they were making tons of money for doing practically nothing. He wanted to prove that anyone could write a children's book, but the plan backfired as the company never responded to his submission after he mailed it to the publishers.
Trivia
Ad blocker interference detected!
Wikia is a free-to-use site that makes money from advertising. We have a modified experience for viewers using ad blockers

Wikia is not accessible if you've made further modifications. Remove the custom ad blocker rule(s) and the page will load as expected.