Steven "Steve" James Zahn
(Born November 13, 1967) is an American actor who played the role of 
Frank Heffley
,
Greg Heffley's
father. He was given a D by Reelz Channel. He appeared in the first three movies.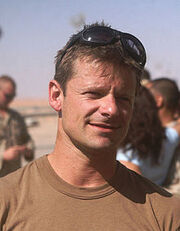 Films
First Love, Fatal Fall - 1991
Rain Without Water- Jeremy Tanner - 1992
Normandy: The Great Crusade- Bill Preston (voice) - 1994
Stuart Little- Monty the Mouth (voice) - 1999
Dr. Dolittle 2- Archie (voice) - 2001
Joy Ride- Fuller Thomas - 2001
Stuart Little 2- Monty the Mouth - 2002
Phineas And Ferb - Sherman - 2008
Diary of a Wimpy Kid- Frank Heffley - 2010
The Knights of Badassdom - 2012
Escape from planet Earth-Boomer - 2013
Ad blocker interference detected!
Wikia is a free-to-use site that makes money from advertising. We have a modified experience for viewers using ad blockers

Wikia is not accessible if you've made further modifications. Remove the custom ad blocker rule(s) and the page will load as expected.